The origin of a "Hashigojishi at Owaki"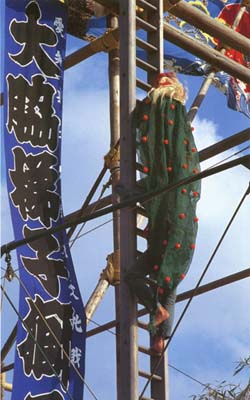 Hashigojishi is a stunning indigenous performance art that has fascinated the public for centuries. Hashigojishi consists of elaborate dance-like acrobatics performed with a long ladder. (The Japanese word for ladder is hashigo.)
It is said that hashigojishi was brought to Owaki from Oaki, a village in what is now Nagoya, more than 400 years ago.
Initially, however, it was not that popular. It was only through the efforts of Yogen Aiba, a village headman in the 1700s, that it attained an enduring of popularity. In the years since then there have been several periods when there were no performances of Hashigojishi. Every time, however, the continued support of the villagers caused it to be revived.
This support was recognized in 1967 when Hashigojishi was designated an intangible folk-cultural property of Aichi Prefecture.
---