Hashigojishi
Tanemaki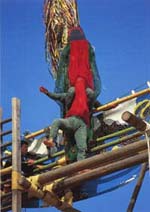 Hauchi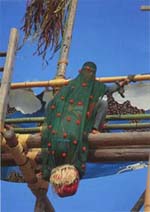 It is the dancing of good harvest gratitude.
Two who dressed to the lion Fifty-one steps of ladders it rises and the oar of the ground of about 10 m on I show the feat. I play the situation that scatters the seed Tanemaki, Ear of rice that shakes to wind is expressed Hauchi, Ear of rice that bore fruit like the flower of the wisteria is expressed Fujisagari.
There are 3 performances of wisteria lowering .
---